Joined

Jun 24, 2010
Messages

5,684
Points

113
7W NUBM44-V2 450nm Laser Diode
This is the most powerful laser diode that is known to be available as of 6/21/2019
Here is how the looks after being pulled from the NUB blocks.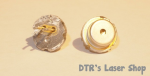 Here is the current king of the hill. The 6W NUBM44-V1(NUBM44-71/NUBM47T) is out of production for a long time and this new version never got its own testing thread mostly as my old LPM did not read any higher than 6.8W.
NUBM44-V1 Testing Thread.


6W NUBM44-71/NUBM47T 7W NUBM44-81/NUBM47-A1 450nm Laser Diode Title subject to change when/if new testing data changes UPDATE 7W+ NUBM44-81/NUBM47-A1 450nm Laser Diode The 6W+ NUBM44-71/NUBM47T the original version of this diode has been out of production for about a year now and the diodes...
Here are some of the NUMB47-A1 blocks these are coming from.











Here are some collimated spots with af few common lenses.


CNC Engraving/Cutting.

Best option DTR-G-2 with a 30mm working distance from the aperture of the laser to the work with good ventilation.
Here is the new power test
using
a DTR-G-2.
Finally got full readings out of my new LPM with this diode..
​
Last edited: