Joined

Jan 28, 2009
Messages

3
Points

1
Hello, i'am working on a DIY Raman probe.
I have checked three 532nm lasers :
1) 532nm cheap laser pointer 1mw
2) 532nm 50$ laser pointer 5mw
3) 532nm 200$ laser module, from Thorlabs, 4.5mw
When i use my spectrometer (LR1 from Aseq), with any of this lasers, i can see that :
532 nm main wave
604 nm wave, around 1/20 of 532 nm power
800 nm wave, very low power
Using a 532nm bandpass filter, the 604 nm is still here, not very much atenuated.
I can't understand why this 604 nm have to be there ...
After i asked the spectromer brand, they reply the problem is the laser ... but, the three lasers shwo a 604nm wavelength
After i asked the laser brand, they reply the problem come from the spectrometer
It seem, after some experiments, the 604nm power is proportional to 532 nm power.
If someone still have see this problem, or have an idea, can you please, explain that ?
I join a screenshot .. M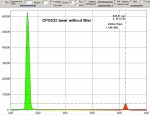 y three lasers show that ...
Thank you very much !
Greetings,
Yves