I bought this unit a while back, for engraving PCB's (isolation routing), and it just died. It lasted about 10 working hours in total, on and off - of course. Paid only £14 a year ago, shipping included, from a popular offshore online market place.
It was described as "500mw 405NM blue purple laser module engraving,with TTL PWM control"
The driver that came with it, supplies a constant 370mA, and is still working.
I am now looking for a TO38 package replacement diode, to replace the dead one, but can only find a 200mW model. (Nichia NDV4542)
Can anybody recommend a more powerful model?
Thank you for any advice.
Joe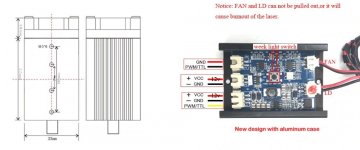 Last edited: