Joined

Dec 14, 2020
Messages

128
Points

28
These past 2 weeks I custom built a 1w NUGM03T into a SaberForce light saber host.
This was for a customer. Sad, because this thing is AWESOME and I want one to hang on my wall now.
I machined aluminum parts to fit the diode into the host, and 3D printed some plastic components to fit the switch and driver.
I used existing battery trays and 3D printed a sleeve for it to fit the correct diameter of the host.
I used my own drivers from jlasers, the same boost driver that drives my 405nm, 450, 455, and 520nm lasers on my store.
The cool thing about this host is I included 2 battery trays, so the customer can use 3x AAA in series for 300mW or 3x 10440s in parallel for full 1W power.
The user can leave the plastic blade uninstalled to expose the collimated laser beam, or install the plastic blade and the laser beam diffuses into the blade.
Awesome how lucky that was!
If you guys want some of these, hit up my website @
jlasers.org
I plan on making more in the coming months. I have to get in touch with the manufacturer of the hilt.
They will go for around $300-500, not 100% sure yet.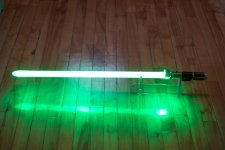 Last edited: