Joined

Jun 4, 2011
Messages

119
Points

18
Hello it has been about 9 years but I'm back in the laser game! Glad to be back and this time I have a garage with a milling machine and lathe which I am learning how to use. Machining is useful for all my hobbies and I'm practicing on lasers. Here's my setup: Lagun FTV milling machine & Logan 14" lathe.
Here is my latest build with a diode I haven't seen used before. See title for part number. This diode is 9MM 638nm multimode, spec sheet: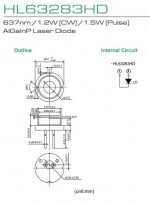 My brother is an aircraft mechanic that gives me lots of cool junk to work with. He gave me some stainless pins & other parts from a helicopter which are perfect for a hand held laser. The bigger cast steel parts will go for future higher power builds.
Here are pics of the build. I machined a module out of copper, to fit the 9mm diode, as well as a 12mm lens from Thorlabs (8mm focal length). This lens helps mitigate some of the divergence.
I found it hard to keep the drill bit on-center when drilling the holes in the stainless. I probably should have milled a flat spot & center drilled beforehand. As i said I am not an experienced machinist. The module & the tail are held in place by set-screws.
I just drove this diode at the recommended current from the data sheet, have not really "pushed it". So far happy with the performance being on spec.
Here is a beam shot, no fog obviously. The spot size is a line, measeured to be 3" long at 25' distance. I will experiment with cylinder correction in the future. Also would like to crank up the current and find the limits of this diode.