Joined

May 19, 2019
Messages

122
Points

43
I found this Taobao around the end of 2019.
It really intrigued me due to its small size and specifications. And better yet, it costs lest than 1 USD per driver
According to the spec sheet, it takes anywhere from 2-7V input, and outputs 6.8V. It is designed to deliver 280mA.
欢迎前来淘宝网实力旺铺,选购515与520nm绿光模组驱动板激光输入3到7V升压到7V输出ACC欢迎代购,想了解更多515与520nm绿光模组驱动板激光输入3到7V升压到7V输出ACC欢迎代购,请进入中国激光直销1店的中山南方光电实力旺铺,更多商品任你选购
item.taobao.com
So i ordered a few.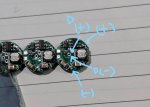 This is how it is mounted. You thread the diode pins through the holes in the driver and just put a small blob of solder on it to secure the driver in place.
As you can see, it is super tiny. Making it ideal for compact builds.
Here are some before and after pictures for comparisons.
Here you can see my super dim and underpowered 515nm sharp, compared to my 107mW 505nm sharp.
I decided that it was time to make it brighter. So i swapped out the old driver for this new tiny guy.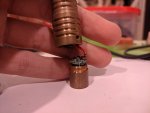 Much better now.