Joined

May 1, 2021
Messages

17
Points

3
I've been playing with a single line argon out of a confocal, and ran into something I couldn't turn up any answers for in my searches so thought I would brave the waters and reach out here in hope of learning something new. It starts up fine and while it seems to produce 5-10mw of 488 with a somewhat ok beam, it also is projecting a poorly collimated (41mm at 1m) but pretty bright royal blue along with it. See below:
close up of beam on cardboard across the room: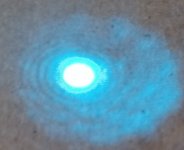 Now with main beam blocked:
The color here in the first picture isn't true to the eye, the blue halo is actually the same color as the brighter blue circle in the center, and representative of how it really looks, the tiny dot is 488 cyan reflecting from the wedge, the main beam is blocked. This is reflecting at an angle about 6 or 7cm from the end of the head, the blue 'halo' is not visible in the next picture at 1m, only the central brighter portion.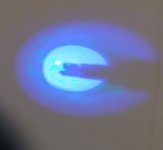 At 1m, the central bright royal blue light is about 41mm across, the primary 488 beam was still less than 1mm best as I could tell with calipers, if you used a bright object to block the beam at the source (and reflected some of the light back) you could clearly see the color difference. All the cyan below is reflections from the tiny round screwdriver blade in the beam path held against the head, it fills the dark blue circle that makes up the background. Maybe someone more adept than I could gain some insight from the reflections being limited to the same size circle or any other clues?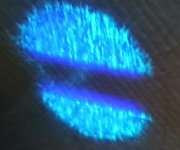 I've read through Sam's and searched here and could only come up with potentially trying to clean the surface of the optics. The only thing I could get to without disassembling things I didn't care too was whatever is in front of the optical pickup, the rest appeared well sealed still, and using a single gentle stroke per swab with 99% alcohol I didn't see anything removed or notice any change. (The inside of the laser head was/is greasy, I don't want to disturb anything too much yet by cleaning the rest of it yet).
So a question from a new guy to those with more experience, is this representative of anything abnormal, or any clues what to check for? It would make sense if some light was leaking out and bouncing around the mirrors made it roughly collimated, but this is quite a lot of light here. I have gently pressed around on the mirror mounts per instructions on Sam's but noticed no changes in output.
Appreciate in advance any advice or input!
Take care,
-Brandon