Joined

Feb 27, 2017
Messages

48
Points

8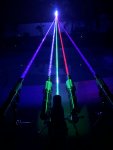 Hi all, first I want to apologize if I needed to contact a mod first. I had tried to message a couple over the last couple days but never got a response. Anyways I'm looking to sell my second set of Sanwu lasers. I sold my first set here last year and since then I got a new set because I was so impressed by their quality and craftsmanship. These are still under warranty by Sanwu and it will transfer to the new owner with 12 months of the original purchase date. I will provide the buyer(s) with order numbers and anything they need in that regard. Other than lasers I have a couple other expensive hobbies and one is shooting. I'm looking to let go of my lasers because I know I'll get another set in the future but right now I'm looking to get a new Pulsar thermal camera. I love my thermal monocular, but I'd like to replace it with a thermal sight with even better detection.
Anyways feel free to send me private message me. I'm busy with school but promise to reply asap in the order that I received them.
I would like to sell the lasers as a set obviously for ease, but I understand that might not work out for everyone.
These are a few months old but still look and function like the first day they were delivered. I invested about $2450-2500(Please feel free to research the cost yourselves) on everything and would be happy to let it all go so someone for $1450 and Ill cover shipping expenses with tracking. Obviously Paypal only transactions please.
I UNDERSTAND THESE ARE "USED" LASERS, BUT THEY ARE FAIRLY NEW, HIGHER QUALITY LASERS, THAT HAVE BEEN CARED FOR. THEY'RE STILL UNDER WARRANTY SO PLEASE DON'T EXPECT ME TO SELL THEM FOR PRACTICALLY NOTHING.
I can provide time stamp pictures, facetime, phone calls, text, my DL photo for serious buyers. This would make a great starter set or addition to anyone current set. You'll be saving about 50% on the initial cost.
Sanwu lasers:
1W 520nm Striker --------SOLD
1.6W 405nm Striker ------SOLD
1W 635nm Striker -------SOLD
5W 470nm Striker -------SOLD
5W 445nm Striker -------SOLD
Accessories:
Flambeau Foam Case
G7 lenses: x5
3x Beam Expanders by Sanwu: x5
Efest IMR 26650 5000mAh 45A 3.7V batteries: x10
Sanwu 26650 4350mAh 45A 3.7V batteries: x2
Sanwu laser tripod: x5
Nitecore Digi D4 charger: x1
Eagle pair eye protection OD6 190-540nm
Eagle pair eye protection OD4+ 190-400nm & 560-640nm
Also, I'm still trying to figure out how to properly resize the images to a decent size. In the meantime Ill upload them to imgur and leave the link here.
Updated Upon Request
Sanwu Lasers Breakdown (My cost estimate)
Multi-Operation Mode Price Of laser + G7 Len(installed) + Tripod Stand + 3X Expander + Efest(x2) = My Total
1.6W 405nm $280.00 + $15.00 + $15.00 + $60.00 + $27.00 = $397
5W 445nm $340.00 + $15.00 + $15.00 + $60.00 + $27.00 = $457
5W 470nm $400.00 + $15.00 + $15.00 + $60.00 + $27.00 = $517
1W 520nm $420.00 + $15.00 + $15.00 + $60.00 + $27.00 = $537
1W 635nm $220.00 + $15.00 + $15.00 + $60.00 + $27.00 = $337
What I'm asking for each laser (Stand, Batteries, Beam Expander is included with each laser. I'll also cover shipping):
1.6W 405nm $235.00-----------SOLD Locally
5W 445nm $275.00-----------SOLD Locally
5W 470nm $310.00-----------SOLD Locally
1W 520nm $325.00-----------SOLD Locally
1W 635nm $205.00-----------SOLD Locally
Last edited: