Joined

Apr 27, 2019
Messages

838
Points

93
Howdy, I don't really use it since I turn to prefer the more green ish color of my 484nm build but it is still rare and as such I am not really willing to let it go for very cheap. It has been tuned to be around class 3A with the provided ar coated PMMA lens, a G8 would push it into class 3B territory. I have tired to confirm the wavelength by building a DYI style spectrometer and 'calibrating' it with a DPSS 532nm laser, I have also measured the wavelength with a diffraction grating and I am getting about 481, the spectrometer showed 479 so I am calling it in the middle. As given you won't need goggles as its only Class3A. Beam is visible at nighttime and an absolute light-sabre in foggy rooms.
Component list:
Host: Custom Brass 10440 style pen host from trinh
Module: 12mm DTR copper diode module
Lens: PMMA Broadband AR coated single element
Driver: Gboost 800mA (with reverse polarity protection)
Diode: Sharp
GH04850B2G (2019 batch)

LPM Used: GentecEO Solo PE with PS310WBv2 head. Completely zero'ed to a 50uW noise floor before measurement, all equipment was at 26c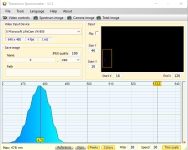 Picture side by side to my 484:

left 484 right 480


Thanks, For offers just PM me!