Hi,
today i played a little bit with my polychromatic acousto-optic modulator and opened the crystal housing.
Bevore closing it i made some pictures and thought, somebody could be interested in this. ...
I guess such a device is known, therefor i must not describe the basic functions.
In my case it is a device from AA OPTO-ELECTRONIC , french.
It is a little bit better one AOTFnC-VIS-TN45-001-RTN01
Features : Multiline operation, high colinearity in 1st order, 405 nm operation, high separation angle between orders 0-1,
high power stability / pointing stability.
The TEC-temperature-stabilized input is an SMC-connector.
The crystal material is TeO2 with an velocity of 675 m/s, it can handle up to 8 lines (independently or simultaneously).
The optical wavelength range is 450-700 nm with an optical transmission > 95% with an active aperture 3 x 3 mm².
The used drive frequency 80-153 MHz is connected to the device with an SMA to control with rise/fall time 1 μs/mm.
This RF-signal is transmitted to the crystal with also golden connections.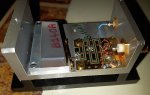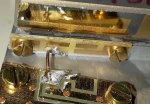 Unter the line this device has a diffraction efficiency > 90 %, separation angle ≥ 4.6°, chromatic colinearity ≤ 0.2 mrad , max optical power density 5 W/mm² @633nm (wavelength dependent) and a spectral resolution (FWHM) < 1.5 nm, that means ... a better one ....
The temperature stabilization (type TN ,SMC connector) is under the optical assembly.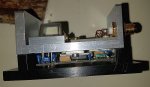 maybe we could discuss again a little bit about such devices ?
Greetings
Bernd