Joined

Jul 9, 2009
Messages

171
Points

28
So I waited in anticipation for my 465nm diode to arrive from DTR.
Pressed it into a heatsink and used a PS to test.
Divergence with Gball is absolutely unacceptable so I decided to remove the can the" proper way" with a vice and pliers.
Anyway I did a real bone headed move and somehow slipped sheering the anode and cathode pins off flush with the bottom of package! I did successfully remove the Gball though. No possible way to solder onto the pins, solder would probably melt and the surface area is nothing.
Not one to give up I came up with a last ditch effort to come up with a fix. Use 24G magnet wire carefully shaped and soldered onto the internal pins that have the bond wires attached. Came very close to it working. One side was successful and all gold bond wire stayed intact but while manuvering the last conductor into position it decided to go willy nilly on me and ripped all the gold Bond wires.
Gotta love this hobby. Kinda like RC planes, its for the persistant only.
All these pics are post bond wires destruction lol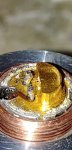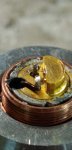 Last edited: