Well I got 2 NUBM07E delivered by now - one from a friend, one from a reseller (insaneware) coming with a partial copper Aixiz module.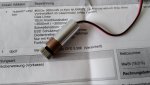 I was able to conduct a limited form of my originally intended experiment 2 weeks ago but only for about 1h, now with 2 465nm in my possession, I am ready and excited to accumulate a lot more data.
Going to attach two female pin headers to the module, regulate the Voltage with a Potentiometer on a breadboard and connect to the 5V output of an Arduino, install the necessary sensor arrays.