Hello,
Few year back I had an IR laser diode that I used to pop a black balloon in a very close distance which was 1/2 inch. The device was build inside the table and the balloon rested on top of it so the expose would be within seconds and the use of the IR was because I didn't want anyone to know that I use laser beam.
I forgot what was the spec of it, I am looking at this one and would like to know if I can achieve the same result using it? I would love to be able to pop the balloon a little farther like 2, 3 inches and the balloon still pop instantly rather than a couple seconds. What can I do to achieve it.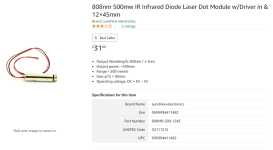 I appreciate if anyone can shed some lights for me on this subject.