Joined

May 19, 2019
Messages

122
Points

43
Hey folks, a newbie here. Need someone to help check if my ideas are valid.
I have 2 host build ideas and I need someone to "fact check" if i have got things right.
First build is a small 10440 cell host. It is a 12mm*87mm stainless steel host. The main problem i have with this host is of course it's tiny size. As it most probably could not even fit a standard 12mm laser module in it. To make this work, i think i could find a way to sand down the heatsink to 11mm or lesser (until it fits). However given the extremely small size i think any laser built with this host will have a terribly short duty cycle in order to keep the lifespan of the laser longer. I want to try to jam a 200mW 650nm laser into this host, do you guys think it's okay?
For better thermals, i think i would just get a generic 12mm screw-on heatsink to dissipate the waste heat. However that's gonna be very ugly but i'm fine with that.
Link to product:
欢迎前来淘宝网选购热销商品包邮迷你强光手电 笔夹手电筒10440充电 CREE 袖珍手电 AAA不锈钢,想了解更多包邮迷你强光手电 笔夹手电筒10440充电 CREE 袖珍手电 AAA不锈钢,请进入liousecheng的店铺,更多null商品任你选购
item.taobao.com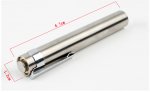 The flashlight host.
The tiny driver pill.
Besides that, can someone help me check if this is similar enough to a generic c6 host? Can i use a 17mm driver or should i just bypass the stock driver and use a rectangular shaped driver?
Link to product (18650):
欢迎前来淘宝网选购热销商品不锈钢 Q5 LED强光手电筒远射直筒 18650充电户外用品家用徒步,想了解更多不锈钢 Q5 LED强光手电筒远射直筒 18650充电户外用品家用徒步,请进入康师傅conly的店铺,更多null商品任你选购
item.taobao.com
I've also found a 14500 sized version of the same host, but obviously they are a tad smaller.
Link to product (14500):
欢迎前来淘宝网选购热销商品Q5 LED不锈钢强光手电筒远射户外用品迷你 5号电池14500充电电池,想了解更多Q5 LED不锈钢强光手电筒远射户外用品迷你 5号电池14500充电电池,请进入康师傅conly的店铺,更多null商品任你选购
item.taobao.com
18650 version:
The body dimensions are as shown above (in the 3rd row)
The only pic they provide that shows the insides.
14500 version:
This one is shorter and also smaller in diameter.
Contact point has no spring.
So as stated in my Intro post, i am still relatively new to lasers and learning a bit more day by day (still have to find a way to get heatsinks locally). Therefore i felt like i could use some input on my ideas before i start.
PS: Are there any prominent/active members from Malaysia/Singapore that i could get in touch with?
Sure seems like there aren't many laser hobbyist in Malaysia
Last edited: