Joined

Nov 20, 2019
Messages

75
Points

18
Hi all! I have a few questions regarding the LPS shipping and tracking. It says it ships from Ontario, China and Jersey(and more, but these are the ones relevant to my location). I figured mine would either ship from Jersey or China, but is there a chance that Ontario is the Ontario California location, and not Ontario Canada? Because today it gave me the tracking info and one said Guanshou and the other part said Chino CA(which is about 15 minutes or so from Ontario California, according to a brief Google maps search)
Another thing I noticed is that it gave me two tracking numbers, one from USPS and another from SUA(Whatever that may be). I was wondering, is it shipping in two parts? Which location should I trust it's shipping from if it is just one? How long should the wait be? I live up in Northern California, about an hour or so from the Oregon border.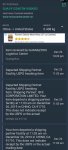 Anyways! Thanks for your time,
Io.
P.s. I had some other questions, I think, but I forgot em'. I could just edit once I remember or maybe just add another post in this thread after others post.