Joined

Jul 3, 2015
Messages

543
Points

43
For the past several years I have been a guest at DARPA and had the opportunity to develop a Laser Assusted Particle Accelerator. It is a prototype for the Department of Defense and will most likely be deployed in some form on Navy vessels. The details regarding development are of course classified and I will probably delete this post in a few days. If it remains, you will know that they locked me up. I just hope you guys will visit.
As you would imagine it is not wise to get close to one of these during operation, so I put together a digital, radio receiver and transmitter operating in the UHF region which I can operate under my Amateur Radio liscense. W1RNY. I have tested it and with no obstructions can I be a quarter of a mile away. I am sure I can get even more distance, but I did not test it.
Here is the prototype in operation.
LAPA Prototype
Below are pictures of the initiator. It is digital which prevents activation by stray radio signals.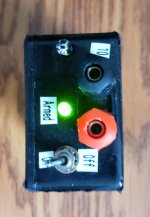 Please Note: No animals were used during testing but a tree brwas seriously injured and had to be euthanized.
Last edited: