Joined

Jul 4, 2008
Messages

2,680
Points

113
Well it's been nearly a year since I was last posting anything significant on the forum.
Anyways... I just came back from a trip to Quadra Island. Geologically it is very unusual. Several localities on the island are rich in Copper, Iron, Antimony and Tellurium. I went to several spots, one in particular that was a past producer of Silver and Gold... The Lucky Jim mine. Rummaging around the tailing dump and the nearby cliffs I came across limestone with a dark vein running through through the middle of it. on the ground I saw a pretty large boulder that had fallen off the same cliff face. I took a pick to it. Upon careful examination I have confirmed the vein as a Sylvanite. The samples I collected also have native copper values, as well as patchy
Tetradymite, a Bismuth Telluride. I managed to get quite a bit of this. A couple of Kg's worth.

In another location I attempted to go find the Senator, Radium deposit... This proved impossible as many of the trails look like they have been either washed out or in poor condition.

I brought my plastic scintillation detector plugged into my Bicron Surveyor MS, and got up to a about a km away from the marked deposit. The survey meter registered 300CPM, pretty standard background, until I got to some vanadium values in some of the basaltic layers closer to a sheared off cliff face. The counter shot up to 750CPM confirming trace amounts of carnotite. Again, I got a sample of this. It's not spectacular but it does have other interesting minerals associate with it. More details coming later.
Going to the Okanagan to find some newly documented Uraniferous deposits marked on minfile this coming Friday-Monday, including some black Monazite bearing sands in Lytton.
Should be interesting.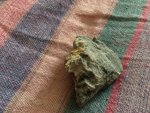 disseminated Sylvanite in limestone with Tetradymite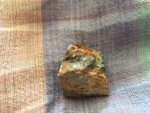 Vanadium bearing host rock (Basaltic) with very minute - trace amounts of Carnotite.