G'day all,
I thought I'd share some pics on two homemade lasers I made. I purchased a phr-803T sled and harvested out the 405nm and red diode, I placed the UV diode into an aixiz module and put the red into half an aixiz module. I must say, the UV laser was so much brighter than I expected it to be, things fluoresce very brightly which makes it such an interesting laser.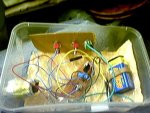 UV laser: Mounted in a large plastic box, constant current circuit with adjustable current from roughly 0-100mA.
By wearing sunglasses and using the beam like a torch (in largely unfocussed beam mode), I've been able to scan beaches, parks and woods at night to search for fluorescent objects, plants and animals. I made some quite interesting finds, especially with the beautiful coloured fluorescence of the sea shells at the beach.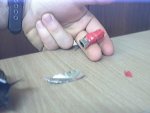 Red laser:
I had fun making this one. It has adjustable power and adjustable focus, I wanted to see if I could make a more powerful and smaller laser than an old red pointer laser I once had, I succeeded. It's pretty much button cells stuck to the head of an aixiz module with a loose wire on the back that you push to turn it on).
My camera flared up the image, so it looks brighter than it actually is but I was still impressed with how bright it was.
No doubt somebody on this forum has made a smaller pointer?
I've made some VI curves for both PHR diodes and also the LPC diode. I have also observed a lot of types of fluorescence using the UV laser, I might post my findings if anybody is interested.
John