Joined

Jan 15, 2021
Messages

15
Points

3
Hi everyone, nice to meet you, I'm a mechanical engineer from Boston, and I'm coming into lasers sideways from my photography hobby. I'm a photographer interested in light outside the visible spectrum or that's otherwise ordinarily invisible, e.g. infrared and ultraviolet, thermography, shortwave infrared, and lately, most pertinent to how I got here, fluorescence.
A few years ago I read a paper by Thomas Kaye and his students, "Laser-Stimulated Fluorescence in Paleontology," that showed that by sweeping a laser-generated line of light across a fossil they could generate gorgeous fluorescent photos, even in minerals that did not normally produce much fluorescence, due to the high intensities compared to other light sources. Determined to try it for myself, I bought a 405nm "100mW" laser on eBay (the paper used powers between 150mW and 500mW for their work, but I decided to start small in case the laser was under-speced) and some OD6+ FreeMascot safety glasses, and tried fluorescing the inside of my apartment. Guys, I promise it only looks this bad in fluorescence!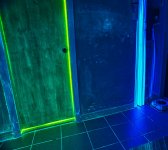 Anyway, that first experiment showed a number of weaknesses of the line laser I had bought (among them that it needs to be plugged into the wall), but I'll make a new thread for my problems, since this is supposed to be a hello thread. Nice to meet you all!