Joined

Oct 24, 2006
Messages

2,032
Points

0
Well, I have a rare treat to offer all of you. I recently got a hold of an ultra-rare, authentic RPL unit that tests in the 450mW range. This unit is NOT from optotronics, but it is from the same manufacturer, and will be the same as if you ordered from optotronics (except for the stickers on the case?).
Anyway, so here's what I'm offering in a package:

- RPL >450mW unit (with accession # for legality in the US)
- Power graph/certificate affirming output
- TWO endcaps - both the adjustable and non adjustable w/ keys
- 2 month manufacturer's warranty
- Battery Charger
- (2) quality 18650 2600mAh protected cells
- Case
- Free shipping in the US
Now hearing serious offers! No offer is too low - I just don't have to accept it  
.
(Or buy-it-now for only $1,495.00)
Details on the laser:
When I received this, the tester at the manufacturer even made a note, "450" on the slip. In my tests, at full power it metered in at 450.2mW over a 60 second average, and 464.5mW over a 30 second average, with a 500.9mW peak - this us truly one hell of a beast!
Also, this unit handles duty cycle particularly well for an RPL. The manufacturer suggests just a 50 second runtime, and some of the units I'm seeing back that up, but this one has been on my meter for 4.5 minutes - still going strong in the 420-460mW range.
As for the divergence, its just about average for an RPL (which is very good anyway), or perhaps a little above average. At 113.5ft its measuring somewhere in the 25-32mm range, which puts its divergence between 0.70 and 0.95mRads (BTW, 30 ft of retracting measuring tape whipping to the side and catching your finger bleeds A LOT!)
And yes, before anyone asks, I did test this with an IR filter when I first saw class IV peaks. That 450mW is good 532nm light from a well-filtered unit.
Here's an excerpt from the certificate that will accompany the laser: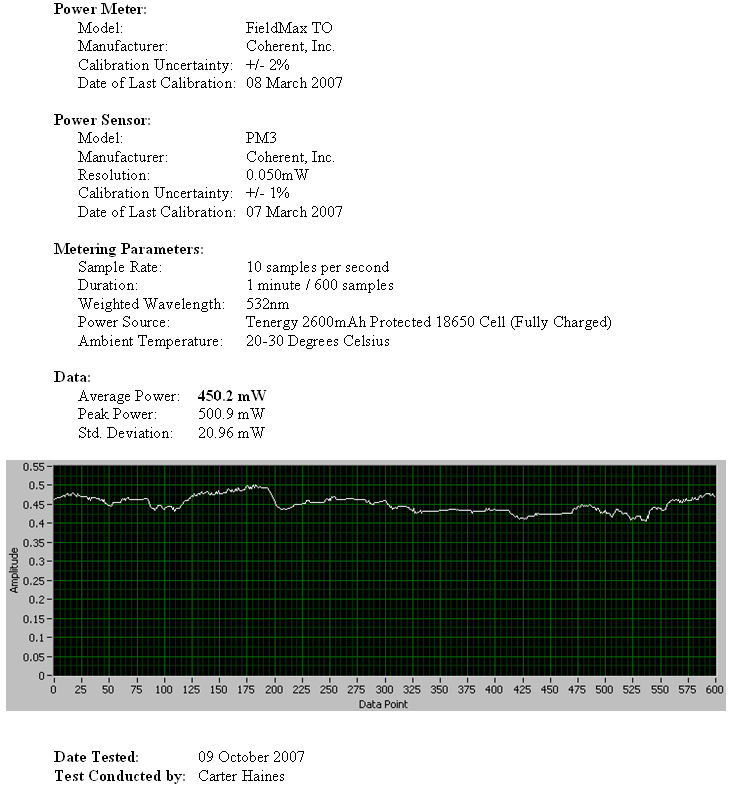 This may well be a once in a lifetime opportunity, so don't miss out!