Finally got my first "build" together. Not sure I can really call it that as the diode had already been pressed into a 12mm module AND the driver was already soldered and set upon arrival.. all of this thanks to DTR. Will definitely be purchasing from them again.
I got the heat sink in the mail today from Rich. Came with a battery contact/spring with leads. Tough getting it into the host (see photos) but now it's a great fit and his custom lens adjuster works great. Thanks Rich!!
NDB7875 diode, module and driver from DTR with a G8 lens.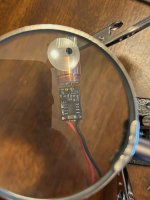 Pressing the heat sink.. used a cheater bar, snapped the handle on the clamp, busted out the channel locks to finish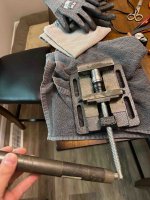 Instead of desoldering DTR's leads from the diode, I just soldered his and Rich's leads and used some heat shrink.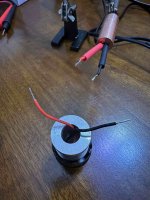 Finished product with some beams!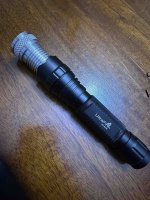 Had a lot of fun doing this one. Once my drivers get in the mail, I'll be building a pen laser with a Sharp 488nm from DTR and Laser66 pen host. Can't wait!
Thanks for viewing,
Seth