Joined

Nov 15, 2018
Messages

26
Points

3
Hi all!
I recently came across a listing of second hand beam expanders for a good price on a Chinese ebay-like site. They are used but are in good condition; no scratches on the lenses and only minor cosmetic damage to the anodizing. The seller is offering ten or so for sale, and so I purchased one for my holography interferometer setup and was wondering if anyone else on the forum is interested in buying one. If so I could buy a couple more and sell them for ~$90 each, which is a pretty good price for this specific beam expander and just a 10x beam expander in general. Please reply if anyone is interested.
The specific model number is Melles Griot 09LBX003, details as follows:
​

Melles Griot Laser Beam Expander Model 09LBX003

Ideal for applications of helium-neon and other visible lasers that require the beam to be expanded for uniform illumination of a large area. Produces 1 lambda or less of peak-to-peak wavefront distortion.

- Cost-effective and ideal for illuminating a large area
- Designed for broadband applications from 450 to 750 nm
- Expansion ratio of 10X with 1 lambda (peak-to-peak) or less of wavefront distortion
- Far-field focusing adjustable from 3 m to infinity.
- Melles Griot adaptor ring product number 09 LAR 001 included

Specifications:
Wavelength range: 450-750 nm
Recommended maximum 1/e2 beam diameter: 1.0 mm
Input aperture: 2.5 mm dia.
Wavefront distortion: < 1 lambda (p-p) at 633 nm
Transmission: > 95%
Coating: HEBBAR/078
Housing material: Black anodized aluminum
Mounting: 1-inch-32-tpi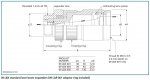 Below I have included pictures of the specific one I received.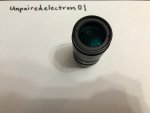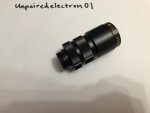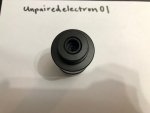 Note in the last image the silver line is not damaged anodizing but rather a silver sharpie line used to line up the focusing ring to a specific focus in the previous application.