Hi , i'm new on this forum , this is my first post , so let's begin (sorry for my bad english .. i'm french ) :
Recently i bought a laser on Ebay , the "Thor M2"(1.3w) it was pretty cool when its was working
....
After about 2 hours of total usage , the lens just melted and made some ugly patern (plastic lens) , the smoke from the lens got stuck on the actual diode
and the diode was getting less and less bright , so i tried to repair it but ...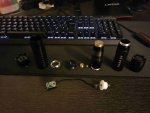 I remenbered i was bad af in electronics .
I gave up on this laser .
So i decided to make my own portable laser , the part :
-M140 2W diode (15€) from ebay
-T18 Diode Host + 3 elements lens (5€) from ebay
-XL4015 Driver (CC and CV) (3€) from aliexpress
Link
-2xSelf-Locking Switch (1€) (one between the driver and battery , the other between the driver and the diode) from aliexpress
-Case (2€ but dont know if im going to use the one i bought) from aliexpress
-Battery Holder for 2x16340 (2€) from aliexpress
Total : 28€ for a 1.8-2W "Portable" Laser
But there was only one problem , the "current spike" or "Inrush current" on those cheap dc-dc converter , this can burn the diode .
I saw on this thread :
LM2596 DC-DC Step Down CC/CV Adjust Power Supply Module
I know that its not exactly the same driver as mine (
My driver
) , and the thread was made in 2012* ... , but i dont want to burn my diode (even if its only 15€)
I dont have the instrument to test if my XL4015 as a those spike , but just in case .
SO i wanted to know if there is a way and how to remove this current spike and make a "Fade on" ?
Thanks , Théo .
Last edited: