Hey fella's,
I am in contact with Sinner about having him build for me some custom all copper tops for my Kryton Groove hosts I bought from Grainde. He is also interested in getting in on the buy possibly. I am currently hashing out the details but here's were we are so far. Obviously the more I order the cheaper the cost.
Sinner has agreed to make them for me and can begin in 2-4 weeks time. Personally I want both the top that holds the diode as well as the focus knob in solid copper. I know many people here don't like polished focus knobs because of finger prints but to be honest I don't think that matters for me and this is why. My krytons are polished so they are finger print nightmares anyway. If anything the focus knob is probably the least touched part of the host as I am not really a burner. So I am getting these copper tops for better heat sinking but also astetic reasons. An all copper upper section would be much nicer and unique.
Next option is this. He can make them to be module ready tops rather than pressfit. Benefits would be;
a. one size fits all host build if they accept modules including 3.8mm which are not as common to find for Krytons.
b. keep cost down due to Sinner only having to make a bunch of the exact same thing as opposed to making 3.8mm, 5.6mm, and 9mm press fit tops.
c. could make Krytons a much easier build for some.
d. ability to easily change out the diode/module in the host of desired or necessary. not everyone has a set of diode press and extractors.
-Only down side I can think of would be the obvious. Not as good heat sinking ability.
The price will go down if I order in greater quantity but for my own min order of 5 sets the cost is $22 per piece or $44 per press fit top and focus knob set. I think he would be happy to make just tops for anyone that doesn't wish to have the copper focus knob.
I'd like to hear feedback regarding your over all interest in getting in on a group buy, pressfit vs module ready, and focus knobs made of copper.
I would be happy to organize the order and do the buy if others are interested. Below is a pic of the pieces that sinner would be making out of copper.
I want to add that I understand this isn't a cost effective idea for some but for me its not about that.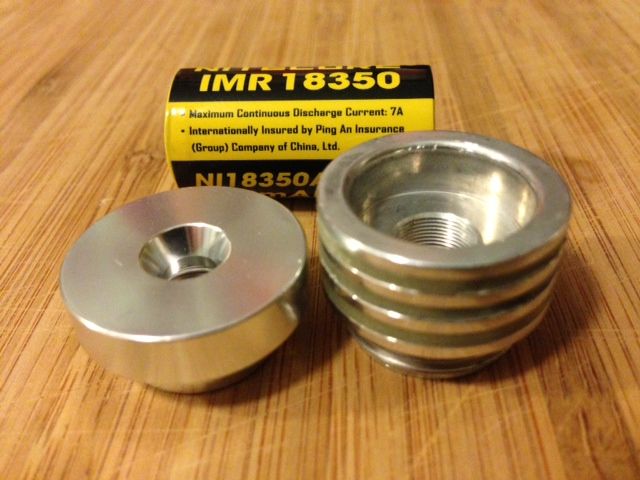 Last edited: