Joined

Apr 2, 2009
Messages

10,689
Points

113
see pic PL-E Pro 450 5W
the smaller metal button in one hangs down more than other PL-E Pros
sry for poor pics.
I have gently tugged on it w/ fingers-- my feeling is that will not just fall out sometime.
I functions as it should- click once -jumps to strobe. click again strobe off laser on.
the pic shows the laser in question and no other that is like all I have every seen. WE have become accustomed to near perfection in re Jetlasers lasers.
If you have a PL-E Pro please check yours.. hold it with the metal buttons pointing down to see if it is the same as this PL-E Pro.
IF the current buyer passes=it will go up FS.
PM me asap.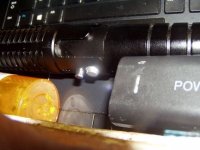 Last edited: