This is my first Sanwu laser (or any high quality, non-ebay laser for that matter) so it would be nice if somebody with more experience with their lasers, especially the Pocket series, could tell me if this is normal operation or not.
My gut instinct is telling me this isn't normal and that I've got a dodgy unit. I've watched video reviews and seen pictures of other people's Pocket series lasers and haven't noticed the same 'ring' being projected from their lasers.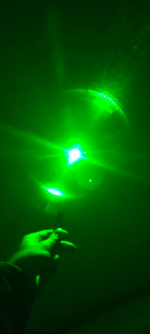 I've taken two pictures. One with the lens screwed all the way on and one with the lens removed altogether. The strange 'ring' does not move at all while unscrewing and is even still somewhat visible after removing the lens completely.
I did email LaserPointerStore (where I bought it from) and they've then emailed Sanwu who have said it's
"the Refracted light from the front part dust-proof lens".
This isn't particularly helpful though as I'm not entirely sure what they mean by this. They also told me to
"adjust the dot to a small one and see how it will be"
which also isn't helpful considering the 'ring' leak remains regardless of how far the lens is screwed/unscrewed.
Last edited: