So I purchased what was advertised as a 900mW 520nm green laser.
I dropped my laser on accident one time and something broke. I couldn't get the laser to work unless I lightly tapped the end of the casing, where the diode is positioned, against something hard. Not sure what broke so I took it apart to find a thin white plastic piece that is threaded and perhaps holds the board down? Not sure if this can be replaced with a metal piece. It threads back in but won't thread in perfectly flush it's slightly crooked.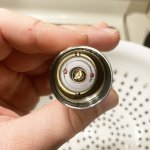 In doing this I could see some markings on the diode casing itself. It looks like it says "300mw 638nm"
Are there tools specifically designed to work on these? Can that white wafer threaded piece of plastic be replaced? Can anyone make any sense of the markings on this diode? Also, what's the deal with Sanwu? I see them advertised all over this website.