Joined

Sep 22, 2018
Messages

3
Points

1
Hi guys! Love the forum. I was wondering if you'd be able to assist me.
A couple of years ago on a trip to Thailand I bought a green laser from one of the market stalls in Bangkok.
It was a thin black pen that looked as far as I can remember pretty similar to this: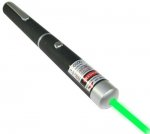 It took AAA batteries and came with a bunch of kaleidescope-style attachments. I remember it cost about $10.
It was a fantastic little piece of kit - I was blown away by how powerful it was. At night you could see the beam for literally miles and miles. I had endless hours of fun with it.
Problem is, I lost it a few months ago
I'm wanting to purchase something similar or maybe even a little more powerful but I'm so overwhelmed by all the different options on ebay / amazon etc.
I've had a look in the green laser section on here and it's still a little overwhelming.
I was wondering if any of you could recommend either an ebay or amazon link to something as close as possible to what I've described - I'm happy to spend between 20-30 USD.
Any advice regarding this would be greatly appreciated - thanking you in advance!