Joined

Apr 2, 2020
Messages

48
Points

18
Hey all, hope everyone is healthy and safe right now.
Folks, I have found my way into the bourbon reserves after a long lab day so I have a question that I'd like to farm out to you all - it has to do with optics and beam combination. I'm a molecular virologist and not a physicist, so I'm out of my depth there.
I understand that focusing lenses image not only the incident light, but the spaces between, hence a focal point of a lens being not purely a combination of beams. That said, the divergence of the beams after that focal point is known, and I suppose I'm wondering what would happen if one were to put a small collimation lens *close* (but not touching) the focal point of a biconvex lens. By sampling the virtual image taken some small distance
d
from the focal point, would the collimating lens be able to create a beam that, despite not being a true combination of beams, would have a higher energy density with the desirable low divergence, low(er) beam size properties of a primary beam?
I've attached a hopelessly simplistic illustrator diagram (please be merciful, all of my illustrator presets and skills are for modeling cells and viruses, this straight line stuff is novel!). Frankly the diagram is there mainly in case my words are somehow unclear about the setup I'm describing because I know about the 1000 ways it's inaccurate thank you
) I welcome all input here but especially from those who can explain the physics of this - I work mainly with fiber lasers with integrated optics packages rather than on optical tables so I'd love a better understanding of the processes underway!
Cheers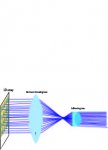 LM