Thanks GSS !
Well, I've been a bit busy but here am I, this is something I am sketching right now, the resistor array has the wrong package, hence the spacing, also, I need to take care of those capacitors and the pot placement, I suspect I'm using the wrong measurements there (wrong package again... maybe). Regarding the fets and it's heat dissipation, I need to calculate it, but I'll most likely put a 12cm fan over the whole and the respective heatsinks with thermal thingy thing and call it a day. q-
I could also get creative and find a way to TEC cool it as I have some laying around... but I'm saving them for the laser!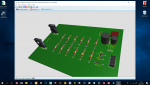 Tell me what do you think...
Oh, I'm also working on the routing (first autorouted, now I need to thicken the traces and correct possible conflicts), but still, I need refine it: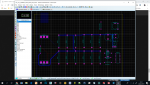 And of course... the respective circuit!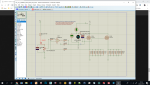 It's a work in progress but I might start making some tests with dummy loads real soon..!
Regards,
Ricardo !