Joined

Jan 12, 2008
Messages

3,170
Points

63
Hi forum, I have dropped out of the hobby for a long while, but I recently got back into it.
Now there are so many more direct diode colors, so I made this device to make it easy and fun to experiment.
Just a large heatsink with a fan, and seven LM317 drivers with swappable resistors. The diodes are connected with separate socket pin for each lead.
A thin thermal pad under the lasers provide good heat transfer and also isolate them from each other, so it doesn't matter if a diode is case positive or negative.
660, 638, 520, 505, 488, 450 and 405nm.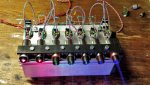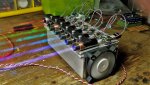 488nm is my new favorite.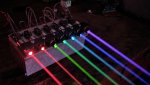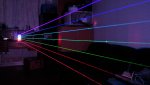 The housings can of course be angled in one flat plane for some crossing beams.
But after such a long stay away from the hobby there are still no yellow/orange diodes, are you kidding me...