Joined

Feb 3, 2020
Messages

39
Points

18
Here is a red powdercoated side-button host made by Lifetime17 (thanks again Rich!)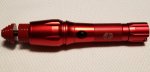 His host came with the standard 18650 adapter. After I purchased the host from him, I ordered a handful of new batteries from Liion Wholesale. While ordering, I accidentally added 4x 21700s to my cart (thinking they were 18650s). After receiving, I realized they were a perfect fit for all of my hosts that require an 18650 adapter.
This host came pre-wired and ready to drop in a DTR Module (Doesn't get any easier than that!) For this host, I originally had the
Oclaro HL63193 638nm 700mw
in mind, but I should have taken Rich's advice in that "they do not like to be driven". I ended up burning up two of them in setting the currents to around 900mA, which was below the 1A recommended setting, but that's just not my luck (with Murphy's Law and all
)
So I then went with his original advice and got the
638nm Mitsubishi ML501P73
. Driven by a Flexdrive V5 and set to 900mA with a G-8 Lens.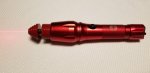 On to the beam-shot, night pics.
The first two are Long Exposure with the laser pulsed. (Turn your screen brightness up
)
The next three shots are long exposure, laser on for the full duration of around 8 to 10 seconds, which is the maximum that my phone will do. Enjoy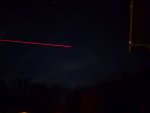 Also, recently I found an app (on android) called "FlightRadar24" which allows you see all flights in real time, based on your location. I started using it to take these long exposure shots so that there is absolutely no chance of getting anywhere near a flight path! I was actually very surprised while taking pictures, (and waiting for a clear area of the sky) aircrafts that i could see way out in the distance, were actually multiple counties away!​