Joined

Dec 14, 2020
Messages

44
Points

8
This diode was extracted from a 16x DVD burner from an old PC lying around. I used a cheap dollar store pet laser for the adjustable lens. The flashlight host is a cheap $5 aluminum case. I used a simple LM317 driver using the flashlights 3 AAA batteries to get my diode working. I used a 25c coin to make the heatsink lol.
This laser is capable of burning pretty much any black surface. Be safe !
Total cost: $15.45 CAD
Time: 5 painful hours
Parts used: 16x DVD Burner, Cheap laser lens housing, $5 flashlight host from Canadian Tire, LM317 Driver.
Pictures:
Flashlight Host
Build Prep 1
Build Prep 2
Cheap diode housing
Build Parts
Cheap Laser Lens glues to Flashlight End
Quarter Heatsink Lol
Driver Fitted
Result
,
Beam Shot
,
Burning Tape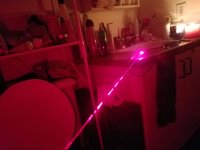 Last edited: