Joined

Jul 19, 2018
Messages

116
Points

28
UPDATE 2019/3/15 : I take a look at the diode can again and compare to my previous thread about the 515nm laser.It's the same ! It's GH05130B2G !!! Not the GH05035A2G.
Hello everyone.Yesterday I got my new replacement diode from Chinese company dongguan blueuniverse laser co. ltd .
I ordered the 505nm GH05035A2G 6 bucks each plus another 7.5 bucks of shipping to Thailand.Tooks about 13 days to arrive (but arrived with one diode instead of two ...).SO stop complain and talk about the laser now ;D
The laser looks like other 5.6mm TO18 diode.It has 3 pin the pinout is like the mose case neutral diode.On the top of laser can (near the circle glass window) has the screened product code "SB338BQ91" .
This is the photo comparing with my old LD in my LL green pointer.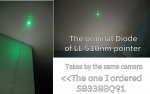 From the picture.My eyes can't tell the difference of the color of the dot and It possible to be the same wavelength.
The previous diode is (may be ) the OSRAM 510nm diode but It has the wavelength shifted because I overvoltage from 3 to 5 volt.
This laser has a weirdly dot when collimated with my 3E lens.It has square box like some of 488nm laser.
I actually ordered for the 505nm laser but this not seem to be what i want.and they missed with quantity before send to me...
I would happy if someone here had some of these laser and did some test wth the diode.I'm waiting
Last edited: