Joined

Dec 17, 2012
Messages

2,084
Points

0
Well I decided to purchase Dimitri's RPL that he sent to jack to get check out. Normally I wouldn't use Western Union to purchase anything but the laser was here in the states so I figured nothing could go wrong. And I was correct.
I figured since I now own lasers from two reputable companies that I would put them up against each other and see who wins! And maybe help someone determine which company is best for their needs.
Lets get to it!
First we will start off with the hard cases. I like how everything for the Herc has its own little place. It has their emblem on the front and lockable latches. What I don't like about it is it just feels cheaply made IMO. But I guess it does the job. The hard case for the RPL is almost a mirror of LaserGlows. It more resembles a pistol case with egg carton foam inside. Does not have the ability to lock but has those snap clip latches. But with this case I feel like I could throw it out of a moving car and nothing would happen to the laser(not that I would ever do this
)
I personally will call this one a tie.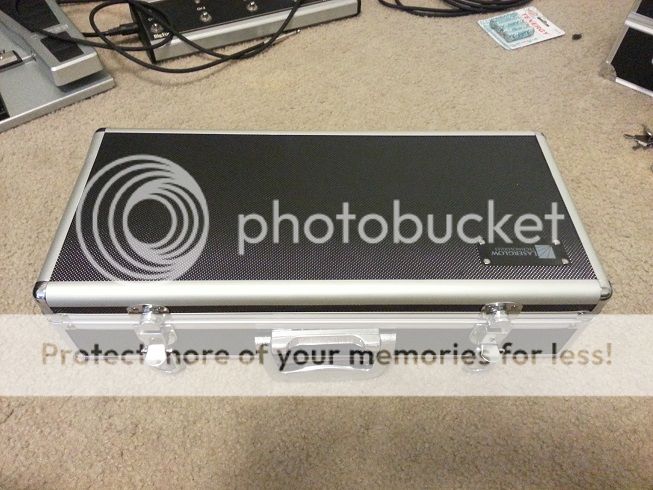 Getting into the lasers themselves. As you can see by the picture below the Hercules is massive not just compared to the RPL but to any hand held for that matter. I feel like the RPL is a little more stylish and easier to carry. Not really much to say here.
I give this victory to the RPL. I like both the size and host more than the Hercules.
On to the tail caps. The Hercules has a key lock as well as an interlock dongle. Currently it is soldered together like a jumper but the laser wont fire without it. I guess this would be used in more of a lab setup where you could wire it up to a switch to have it shut off in an emergency or something. The RPL has 2 tail caps( you have to add on the second one I believe when ordering). One is just a key switch. This arms the laser and turns on the LED. The second one is a current control and allows you to adjust the power going to the driver which in turn limits output. It has a small window (hard to read) which reads 0-9 then A-F. F being the strongest and 0 being off. Now with this tail cap the laser will always be armed with the LED illuminated unless A- you remove the tail cap or B- you take a small screw driver and adjust the dial down to zero.
Once again the RPL takes the cake. Although I do not like that it stays armed with the current control tail cap. It just has many options.
On to the power source. The Hercules uses three D size batteries or there rechargeable equivalent or an external power adapter. The RPL uses one unprotected 18650 Lithium rechargeable.
This one is kind of hard to decide. I really like the ability to use an external power source(which I do not have) but I hate D batteries. They are expensive and are not rechargeable. Will again have to give this one to the RPL because I have plenty of batteries and chargers to keep it burning all day.
Weight. Not much to say here. One is heavy, 1327g heavy while the other light. 384g
Again RPL. Nice and convenient.
Both have apertures you can close off to prevent dust and other debris from contaminating the lens. The RPL has a post that sticks out of the front of the laser the moves back and forth with the shutter attached. It just sticks out and almost looks tacky IMO. Mine(not sure if its ther normal wear and tear or not) seems kind of loose and doesn't always operate smoothly. But as far as doing what it was intended too its fine. The Hercules on the other hand is very smooth. Almost like the focus on an old SLR camera. To use it you twist the very front of the laser CCW and the shutter pulls away nicely. This seems very well built and part of the initial design as where the RPL seems like it was an after thought. Opinions?
Im going with the Hercules on this one.
Power buttons. Both laser have the same button almost. Same size and click when you press them. Just different colors. The Hercules has a few second safety delay where as the RPL doesn't. It also has and overheat indicator. In the instructions it is mentioned that the diode current adjustment not be turned and that it is tuned at the factory for optimum output and efficiency. Thats why this was not mentioned along with the current controling tail cap of the RPL.
Hercules is back in the game!
Extra features. This one is all Hercules as the RPL doesn't have this. First off is active forced air cooling with a small circulating fan that allows for 100% duty cycle. RPL is rated at 5 min on 2 minutes off. The second picture shows the external power plug as well as a place for modulation. Haven't built a circuit for this yet but it would be a really neat feature to have.
This one is all Hercules!
Beam shots! Now the RPL was rated as having a slight lens flare from Jack. So It would be unfair to rate the Hercules as superior with a known issue. You can see the small amount of flare in the second picture through safety glasses. Doesn't bother me at all. Jack assures me a new build would never leave him with any sort of lens flare or really any know issue whatsoever. Overall dot size is very close.
Power graphs. Both tests were with not so fresh batteries so output is exactly what they are capable off but a goo depiction of their individual stability.
Just glancing at the graphs I would say the RPL is more stable. And a higher output. Although the Hercules is only a 325 while the RPL is the 500 model. The Hercules also has a softer start as seen in the graph. Threshold for both runs was 100mW. Tested on an Nospin 5W Ophir with ARGs data logging add-on and Trevor's Peregrine.
Hope you enjoyed this review! I'm proud to have two of the best laser out there and will probably have these particular ones forever.
Thanks!
Speedy
Last edited: