My name is Ikhwan, I am from Indonesia, I have joined LPF since a year ago, and I was inspired by Styropyro laser to make a laser pointer in the host 14500 flashlight. I made a laser pointer using Osram PLTB450B, 17mm boost driver, G7 lens, battery 14500, and a host flashlight which costs less than half a dollar because I bought it at a domestic online store (it costs Rp. 6,500.00 = $0.44, exchange rate of 1 dollar to Rp. 14,886.00)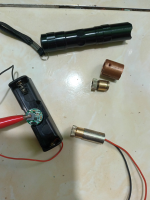 First I press the laser diode into the module
Then I put it in a copper heatsink measuring 17.8mm×20mm with a hole with a diameter of 11mm according to the size of the flashlight hole (I turn manually, not CNC, so the results are a bit messy) because the hole is 11mm, I have to turn it a little so that it fits into the heatsink (I turn it first before I attach the laser to the module),after that I soldered the cable of laser module and soldered the cable from the driver direction.
Actually this driver has a potentiometer and is claimed to be able to reach 1.8Amperes, but my multimeter can only read currents up to 250mA and there is no resistor at home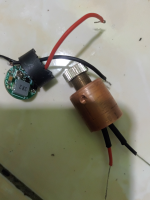 because the host flashlight is small, about 19mm×95mm, so there is no pill driver, instead there is a spring and black bulkhead as space for cables which I then cut in half to fit the heatsink.
After that I cut the cable a little and then I connected the cable from the laser and driver, then I closed it with a heat shrinking tube.
Then I put everything in the host flashlight then give glue a little so that it sticks strong and become a burning laser pointer.
because of my limited funds, I ended up using a cheap 14500 battery, the important thing is that it can light up
After testing, this laser is very powerful, it can burn wood from 15 feet away and can light a match from the wrong way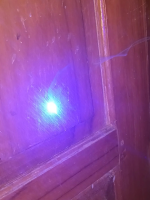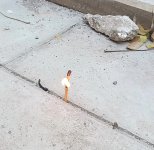 Last edited: