Joined

Dec 5, 2018
Messages

147
Points

28
Yet again I am far from home traveling on the job, not bei g able to sleep. I've been working 15 minutes away from the Mexican border since Monday, I brought lasers to entertain myself but Its not enough if I'm not trying to fit a laser into something lol.
Here, at a Walmart I found a small inspection light for less than $10 that called out to me for a laser retrofitting procedure. Since I have not tried a host of this kind I bought 2 of the and good thing I did, as the first one I tried to open had an incredible amount of stubborn epoxy that caused me to damage the anodized finish but pushed through it because it's raining and there's nothing else to do. Hence my I spent the next 2 hours cutting away at the aluminum with my pocket knife until I had cut too much and the module no longer stayed out. No big deal, I have one last chance.
Ladies and gentlemen, I present to you my latest laser retrofit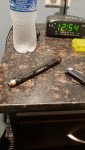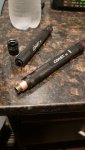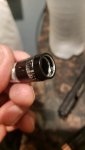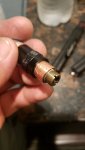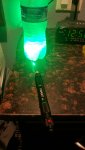 Thanks for looking guys!
For anyone wondering how I solder everything, without soldering iron. I used one of the "modules" I had build for my LUMINTOP tool AAA and pretty much screwed it in the business end after carefully shaving off material from the lip that would normally hold back the lense on this inspection light and cut the spring short on the driver and there we have it. With just a pair of pliers, a pocket knife and some elbow grease, I was able to put together a new laser. I hope you enjoyed it
Luis