So I'm building a power supply for my red laser project and because this is the design that some of my students will build, I have to have everything just right. My first build was OK, but the PCB was a bit too small. The photo below shows the build without the heatsink on the LM317.
EDIT NOTE: I fixed the typo where I typed the wrong number.
I'm sorry that I don't have a shot with the heatsink, but it's a tight fit.
The second try is using a larger PCB, but I really didn't think out the layout very well and made a mess of it.
Everything was looking great, UNTIL I added the heatsink: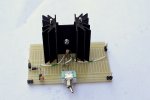 Looking at it after the fact shows that I should have done a better job of picking the right spacing for things.
This project would have been finished, BUT because my electronics students might build it, I really should have things done correctly. Oh well, maybe the third time will work out...
Last edited: