Joined

Oct 28, 2018
Messages

7
Points

3
Hey guys,
looking for some advice for my new laser goggles...
I am planning to do a 465nm build for some movie replica prop (came here from the RPF
).
As the color is important to match the movie and some power LEDs involved in the project, it seems like I am "stuck" with >1W laser diodes.
That considered, I settled on "safety first" and started looking for quality laser goggles, resulting in buying used "new" Univet goggles with OD 7 from 315-535nm as I wanted a pair with European CE certification...
After they arrived today, I had to test them with some cheap laser pointers I already had.
Now, I am slightly confused that I was able to see the low powered laser dots quite clearly through the googles.
When pointing the laser directly through the goggles (against the wall obviously
) they blocked everything.
As both lasers (532nm >10mW and 405nm >5mW) were nowhere near the power output of the 465nm diodes I am after,
I am wondering if it normal that you an see this much light remaining or being converted into different wavelengths.
What can I expect when using a diode with ~2000mW?
Is it still comfortable (and safe) to watch the beam and dot from a near distance? E.g. when burning something?
Considering my laser is around 5mW and does produce a quite visible (yellowish) dot through the goggles,
I picture 1000-3500mW insanely bright even through the goggles...
The main purpose of the build is getting some cool video clips of the prop, though I want to be able to "use / play around" with it safely.
Looking forward to your thoughts.
Thanks, scide!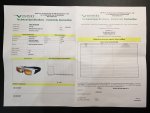 Last edited: