Joined

Mar 17, 2019
Messages

172
Points

28
Hello,
because I hate to cut connections to measure the current to a laser diode, I bought a cheap clamp multimeter.
Attached you will see a picture with a comparison between the clamp meter and the power supply. If you set the multimeter to zero before, the results are nice, even at low currents. Youn can measure currents up to 100 A. That should be sufficient for further projects.
At the other pictures you see the behavior of the simplest driver (LM 317 with a 10 Ohm resistor) while switching the power on and off.
The current change is very smooth, no spikes to see. For low current application this seems to be a very good solution.
be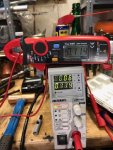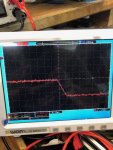 st regards
Edgar