Joined

Mar 10, 2020
Messages

4
Points

1
Hey guys. I just joined this Forum. Please understand my bad English, since i am not a native English speaker.
I'm college student who's major is Information and Communication Engineering. So i'm kind of interested in these lasers.
Anyway, my friend just asked for help, cause he is re-building his own website for selling Laser Pointers.
He is very proud of selling the highest quality laser pointers in my country. and i find out that he defines his own unit of Laser Brightness. It's called 'Bright'
As his information, Since 'mW' cannot be the unit itself of the laser brightness, he made the unit called 'Bright'.
I'll get an example of this 'Bright' with his current selling item.
Laser light color : 532 nm (Green)
Laser light brightness* : 27 Bright
Output Power : Under 30 mW
*: It is written in my language. my friend is not good at English, and i just translated. If he's good at English, at least he would name his own unit as 'Brightness', not 'Bright'
However, that '27 Bright' is caculated with...
Output Power, Visible ratio, Visible factor. (Again, sorry for my bad English)
Output Power is 30mw, and Visible ratio is 1, and visible factor is 0.9
Visible ratio, for his information, Green Laser Beam's ratio is 1:1. I'll talk about this Later.
Visible factor here is, Only the Visible ray from the entire beam, like IR beam.
he's module can filter out IR about 99%, but just in case, he marked as 90%, so the 'visible facor' is 90%, since the 10% of the entire beam is IR.
So, let's calculate. 30*1*0.9=27
That's why he calls his selling module's Brightness as '27 Bright'.
Problem is... remember that i said about Visible ratio?
I asked my friend, then how about Purple? and he said it's like 140:1
So if Purple Laser's Output Power is 1000mw, with 90% of Visible Factor, that laser's brightness is approx. 6.4 Bright.
I remember that Green Laser has variation like 520nm, and purple is like 405nm.
There is approx. 130nm difference between 532nm and 405nm, and has SUPER SUPER different Visible ratio, then there should be at least notifiable visible ratio change between 532nm and 520nm. and i asked him again about this.
He's answer is "There is no big differences."
I was totally not able to understand this. so i asked him where did he get those informations.
and this is where he get those infos.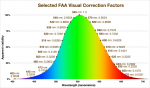 Am i the one who thinks there is a still noticeable change between 532nm with 520nm, still it's the same group in 'Green'?
More, 532's 'visible ratio' is not even 1.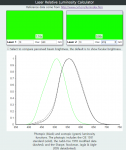 This is the URL that he says it has small error when we use that calculator, so that's ONLY for reference becuase...
He says this URL's calculator shows different result. Still, even this is not trustable just like first URL.
If i put...
Laser 1 : 10mw with 520nm
Laser 2 : 10mw with 515nm
First URL's calculator's result shows Laser 1 is 1.16 times brighter than Laser 2
Second URL's calculator's result shows Laser 1 is 1.157 times brighter than Laser 2
(When calculated in Dot brightness, not beam. Beam shows 1.116 only at 2nd URL's calculator.)
Again, am i the only one who thinks 1.16 is just a rounded up number from 1.157, and both are still trustable number?
In conclusion...
1. That unit 'Bright' that my friend made, is it Trustable?
2. Is there any unit can tell only the brightness of the Laser Beam?*
* : My friend says it is almost impossible for individual seller to tell Laser beam's brightness with Lumen, or Lux.
Please help me guys...
+ since i am a newbie, and not able to post a Link. i attached calculated photo.