Good day. First post with lots to learn.
How to produce a ~3mm dot at 6 metres (1/8" at 20') with a 405nm module like this 12.2mm diametre, ~46mm long module that has some lensing on it. With its lens all the way in, the beam still diverges.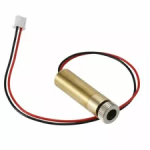 Do I need a housing with lens or collimator or both or other ? Would it fit in a '301' , '303' common pointer housing to use the lenses in it ?