Joined

Jan 10, 2013
Messages

131
Points

18
Hey everyone! It's been a long time since I posted anything here.
I started collecting lasers back in 2013. Recently got back into this hobby. I've always wanted a spectrometer. I finally saved up enough to justify pulling the trigger, and a week or so ago, I saw this gem on ebay. Ended up picking it up for $1500 + shipping.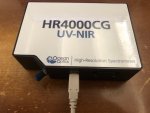 Some very quick specs:
3648 pixels: Toshiba TCD1304AP detector
HC-1 grating
Good wavelength response all the way from 200-1100 nm!
Was bought new in June, 2019
OceanView license included!
~0.5nm FWHM (verified with my 594.1nm HeNe, see spectrum below, measured maximum at 594.017nm)
Here's a cool spectrum of a Hg germicidal lamp (bulb is Osram G11T5):
When I got it, the wavelengths were ~0.5-1nm off. I did a quick wavelength calibration, and now this thing is extremely accurate! Wavelength measurements are all plus/minus 1 pixel.
Great response even out in the extremes. I measured a tungsten lamp and got a beautiful blackbody spectrum centered at ~700nm. Forgot to save it though.
Only downside (if you can call it that) is that I'll need to get some optical fibers and probes etc. for a better setup. But its usable for light source measurements as it is, with diffuse scattering off of paper or wood (multiple bounces if necessary). It seems to like a decently large signal.
If anyone ever needs help measuring a laser, let me know!