Joined

May 20, 2013
Messages

358
Points

28
Hi there! I bought this driver to drive a NUBM08 diode, but before I connect it to the driver, I would like to test it, but I don't know what to look at.
My idea is to connect three diodes in series with a ampmeter to make a test load and conect a osciloscope in paralel with the driver output. With that setup, I set the driver to 4,7A, higher that I need, I suplied the TTL with 3,3V 1,6Khz signal and tested at various PWM settings, this is what I got: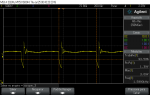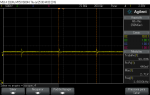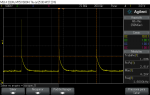 I see a very high peak when the driver switch the current ON, also the pulse is not clean. The forward voltage is set to 3,5V. My knowledge says that this peak can kill my laser diode, my question is, is this driver defective? Should I use it?
The driver in question is
this one.
Thank you!