Hi ( im sorry for my bad english )
I realy hope someone can help me....
today something very strange happened to me.
i had a "laser show" device for 10$. On the package, it says, that the red laser had 100mw / 650nm and the green laser had 50mw 532nm.
i took the star effekt filter away and i could make little bit of burning with the red laser.( strange diode with 4 pins )
Than i found a laser driver that i had, but i dont know of wich laser it was.
i attached the red laser diode to the driver board and turned it on.
the dot, was about the same strength, as attacked on the laser show device.
but now the strange thing happend....
i put on my eagle pair OD4 safety glasses and wantet to burn a couple of things.
The laser was like twice so strong, as before.
BUT I COULDNT SEE ANY DOT
(TESTED TWICE).With the glasses i couldnt see any dot, ( not even on a white surface )
but it burns twice so strong as before.
ATTACHED ON THE LASER SHOW DEVICE I SAW THE DOT WITH MY SAFETY GLASSES AND IT WAS LESS STRONG IN BURNING.
Im now very confused what happend.
I hope someone can help me, because i am also scared that maybe it made some damage to my eyes.
Here some dates from the power of the laser show device and the driver board.
LASER SHOW DEVICE:
without laser diode: 5,10 V / 240ma
with laser diode: 2,40 V 240ma
DRIVER BOARD:
without laser diode: 3,90 V / 70 ma
With laser diode: 3,20 V / 70 ma
I take a picture of the laser diode ( the diode had 4 pins) and a picturo of the driver board that i found. ( backside blank)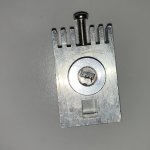 im realy thankfull if someone can explain me what could happened.
Last edited: