Joined

Jul 16, 2019
Messages

9
Points

3
Hi guys,
I'm extremely tired after days of research and I have decided to ask this instead:
Can I put a M140 2W 445nm blue laser diode into one of those modules?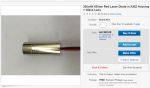 This module comes with a 3 element lense, so it should withstand 2 watts of power. However, the preinstalled diode is a 200mw 650nm red laser.
So I'm a little confused. I did heard someone say a 3 element lens can be used with a blue laser. Can I knock out the stock red diode and use the same 3 element lense for a blue diode? Do 3 element lenses work with either color?
I don't mind if a bit of the beam is clipped and power sacrificed, as long as the beam is clean and the power remaining is above 1W.