Joined

Jun 3, 2020
Messages

328
Points

63
I have a question about the two most powerful handheld lasers I own. I've looked a bit online but nothing has resolved the specific question I have in mind. Not sure if it's answerable in the way I'm presenting it here but figured it was worth a shot.
The two lasers are a 1.1W (measured) 1064nm* and 3.6W (measured) 465nm from JL.
The 1064 DPSS has a nearly gaussian beam profile and can focus to a pinpoint. The 465 uses one of those multiwatt blue diodes (NUBM07?), making it multimode and high divergence—it focuses down to a razor thin line a few mm across.
My area of concern is the differences in capability of the lasers brought on by their beam profile (dot vs line).
It's hard for me to experiment because a) not all variables like power, wavelength are constant and b) I don't have a lab at the moment and frankly I seldom find an ideal situation to use these lasers at all.
What I want to know: if other variables are held constant including exposure time and the material exposed, and we are given a dark material with moderate flammability, is there a difference in effect between striking it with a dot vs. a line? Is there, let's say, something about the line profile that starts a fire easier than a sharp point which is better suited for cutting? I'm questioning along those lines. I have lit paper on fire with the 465 and only ever been able to cut with 1064, but it's hard to say which of the many variables is responsible.
Hopefully someone with more laser cutting/burning experience is kind enough to enlighten me.
P.S. Happy New Year! Here is a beamshot of the 465 in fog.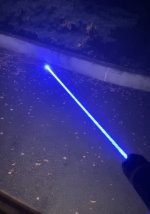 *Out of respect for my eyes and the ridiculousness of owning these lasers, I take numerous safety precautions: batteries out until OD7 CE glasses on, tail cap safety switches, lens caps, IR indicator card on hand whenever operating the 1064nm, making sure there are no reflective surfaces and other people/animals nearby, etc.