Joined

Aug 6, 2008
Messages

59
Points

8
Hello guys
It's been too many years since my last build. In these years many new amazing diodes have been commercialized, so I wanted to try something "new".
Personally I don't like the DPSS laser tech: even if the beam shape can be better, they are more unstable and temperature-sensitive.
So I wanted to build a green lightsaber-design laser with one of the newest diodes.
The host​
I like the idea of a "modular laser": a single host with removable heads that I can easily switch to have a different color.
By searching in the forum I found that Rich (Lifetime17) had the 2x18650 host for me.
I bought it from him and after 10 days (shipping time for Italy), I've got my new host with three interchangeable heads.
Host data
Materials

Battery pack: aluminum
Heads: 2x copper, 1x aluminum

Sizes

Battery pack length: 211 mm (8.3") diameter 28 mm (1.1")
Head length: 54 mm (2.13") diameter 32 mm (1.26")
Total length: 265 mm (10,43")

Weight

Battery pack without battery: 211 gr (7.44 oz), with battery 307 gr (10.83 oz)
Copper head without laser module: 310 gr (10.93 oz)
Copper head with laser module: 332 gr (11.71 oz)
Aluminum head: 99 gr (3.49 oz)
Full reviewed laser with battery: 617 gr (21.76 oz)
I've used only one copper head of the host for this green laser, but I will use the other two in the future for sure!
Thanks to Rich for his great work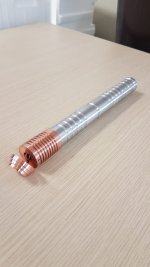 The laser module (diode, driver and lens)​
Since at this moment I cannot access my laboratory, I decided to buy a 12mm copper module from DTR's shop with diode+driver+lens.
The shipping to Italy with USPS was a bit slower than expected but in about a month I've got my laser.
Diode: NUGM03 525nm​
I've chosen this diode for the power and for the wavelength which is similar to a classic DPSS green laser.
I've chosen the G-8 glass lenses because they are a good compromise between power and beam shape.
I did some research in the forum and I noticed
this DTR's post
about the output power percentage.
It should pass about 90% of the power with a good beam shape.
I've chosen the ACS4500BU because of its "soft start" feature and because it has a wider current selection than the Super X-Drive.
I set it at 2A in order to have about 1W of light with the G-8 lens.
The batteries​
Since the current draw of the driver it's quite high, I ordered some good 18650 batteries from an Nederland website (EtronixCenter.com).
These are the models I'm using with the laser:
Panasonic 18650 NCR18650BD 10A 3200mAh
Samsung INR18650-25R 2500mAh 20A
Unfortunately (for my fault) I bought them with a flat top, so I'm using a magnet to let the batteries have good contact.
Assembly​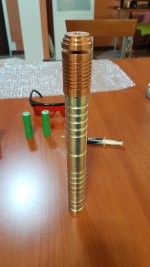 Pics and video​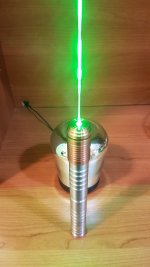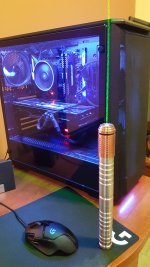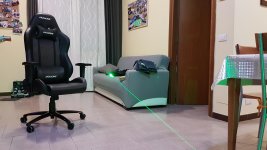 You can find the full album
here
Conclusion​
Product Rating: 10 Out of 10. Extremely satisfied!