Joined

May 19, 2019
Messages

85
Points

18
So after killing my sharp 505nm diode a couple weeks back, i decided to just bite the bullet and go for another one.
This time i set my sights on a stainless steel 14500 flashlight host from Taobao and searched endlessly for a heatsink that might be able to fit it.
Here are the things needed for this build.
The module/heatsink has a diameter of 18mm but the flashlight host only accepts up to 15-16mm, so a lot of sanding was done in order to make them fit. The brass driver tube was also cut to around 13mm long as i just needed it to act as structural support for the top part of the 18mm module to screw into. It was a big challenge for me as i don't have access to lathes and drill presses.
After the module was sanded to size, i soldered the diode onto the cheapo driver and set the current to max, which i guess is about 250mA or lesser.
Now i just simply added a negative wire to the board and made sure the wire touches the steel host. Boom, it works. However this is probably not final as the connections are not tight and can come off at any minute.....
Anyway, enough talk, here are some pics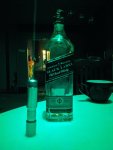 yes the insides are hella ugly and i still need a way to connect the negative to the host
Final Edit: I've completed the build and even switched to a better driver. Its perfect now.
Pics:
https://photos.app.goo.gl/1tgHAhv7MLkdkcEN9
Hope you guys enjoy the pics.
Last edited: