Joined

May 8, 2012
Messages

30
Points

8
So, I really wanted to get into some of the more interesting Blue wavelengths, and I decided that 488nm would be a perfect introduction to the 470nm<x<490nm wavelength range, well, without breaking the bank.
I don't have many build pics of the entire laser, as the build was rather straight-forward.
I had a case neutral diode, therefore I used the case as my -, and an old CREE 1w circuit board as the + (Stripped all the components off the board, obviously).
This is what I came out with:
I thermal-epoxied the bottom of the Axiz module to the brass host plug, and soldered the - Driver input directly to the brass plug as well. Liberal use of epoxy to create the dielectric needed to ensure no shorting.
The host takes a single 18650, and I'm using an LDSE500 buck/boost driver, set to 175ma, which should give me around a 100mw output (sadly, I have no LPM on hand).
Here's a picture of the entire build, next to my 2 other DIY lasers. This build is on the far right, in the gunmetal host.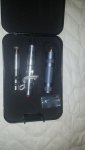 Beamshot, "city dark" during a light foggy night:
And finally, next to my 800mw 638nm, and ~500mw 520nm, unaided, no fog, natural city lighting at 11pm.
Ignore the smudgy phone camera lens... I'm a chef by trade, my phone gets absolutely disgusting...
I suppose a real camera should be in the works next... Unless I spring for a nice 589nm pointer... My holy grail wavelength.
Thanks for looking!
Hands down my new favorite colour.
Last edited: